Dine with us
Variety is the spice of life
We offer all the comforts of a home away-from-home with a good value menu that offers traditional home-cooked food in pleasant homely surroundings.
Our impressive menu gives you a fine sampling of the best land and sea has to offer. Meals are made with the freshest seasonal ingredients, and are all locally produced. Our beef is 100% Irish.
served with home-made brown bread
€6.00
chorizo, cocase basil with seaweed blanc sauce.

€14.50
mozzarella tomato avocado, mixed herbs and salsa verde
€10.90
grilled asparagus, mustard chives veloute, broad bean and mix herb
€10.90
baby gem lettuce, topped with parmesan, croutons and bacon
(with spicy or plain harissa chicken)
€8.50
fresh crab and prawns, chives, ricotta cheese with crab bisque
(please allow time as our food is freshly prepared).
€12.50
with home-made tomato sauce
€7.50
chips, mash, seasonal vegetables and side salad
€3.50
roasted cauliflower puree, spinach, cauliflower florets, toasted hazelnuts, asparagus, chives, citrus, creamy cappuccino.
€16.90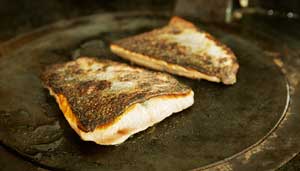 pomme anna potatoes, chorizo, chorizo purée, garden peas and shellfish sauce
€19.00
battered cod, hand cut chips, and tartar sauce
€16.00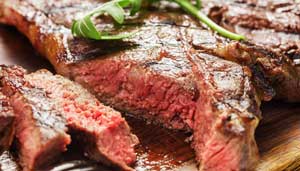 10oz sirloin steak, wotj salted caramel onions, hand cut chips and devilled butter.

€26.90
slow cooked lamb, kale, onion puree, caramelised roscoff onion, sautéed tender stem broccoli, hazelnut crumble with lamb jus.
€25.00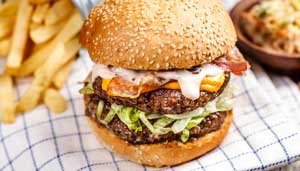 Tubridy's Home-made Burger
€15.50
10oz beef burger topped with bacon, cheese, baby gem, tomato, onion, avocado, pickled cucumber and chips.

€15.50
parmesan, seaweed oil, goats cheese crumble, micro herbs and toasted walnuts.
€14.50
Desserts
Ask our staff for our dessert list.
granny smith apple, oats crumble,berries and vanilla ice cream
€6.50
meringue, fresh cream, mixed berries
€6.50
strawberry, chocolate and vanilla
€6.50
Restaurant
Dinner Hours
EVERY DAY (except Tuesday)
6:00 pm - 9:00 pm
TUESDAY – CLOSED
Make A Reservation
Get in touch with us and make a reservation. You can call, email or book online.
Address

Tubridy's
Main Street,
Doonbeg,
Co. Clare.
Wednesday
12 PM - 11:30 PM
Thursday
12 PM - 11:30 PM
Saturday
12 PM - 11:30 PM